Writing a Laboratory Report
Writing a laboratory report or lab write up is a bit different from an essay. Here you're describing the experiments you performed and the results you obtained. The format is quite rigid but you'll still do well to follow the advice from the academic writing process section. Mainly:
However the most important piece of advice is to present the results you obtained. They might not have been the same as everyone else's, you might think that they're wrong – you must still present them.


Falsifying your data is as serious as plagiarism. All scientific progression is based on the assumption that scientists are being honest when they present their data. If you're ever caught presenting false data your career and reputation will be ruined. Learn good habits now and always present the data you obtained.




Experimental Write Ups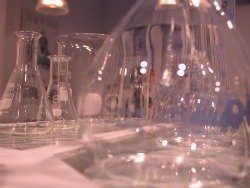 Experimental write ups often follow the scientific convention of IMRAD for presenting data. Which means:
This method of presentation is discussed in more detail in the scientific papers section of the website, along with information about the abstracts, keywords and conclusion sections.
Depending on the specific requirements of your institution you might or might not need all of these extra sections in your laboratory report.
If you need to choose your own title it should be representative of the topic and descriptive.




Introduction
The introduction should contain background information, fully cited and referenced (the same as in an essay). This should explain why the experiment was important to do and what can be learned from it.
It should also contain the specific aim(s) of the experiment. These are usually in the last paragraph of the introduction.




Methods
The methods (and materials) section should only contain a description of what was done and what was used to do it, that is all. No presentation of results.
Explain what you did. If you changed a published method explain what the change was.




Results
The results section should contain the results and a description of them. It shouldn't contain any discussion, save that for the discussion section.
The results can be either presented as tables, figures (graphs) or in the text if there is not enough data for a table of figure. Tables and figures should be self explanatory.
Each table or figure should have a description, which goes above a table and below a figure. The description and any labels on the table or figure should be enough to explain the data it contains.
Each table should be referred to, by a sequential number, in the same order that they are presented in the text e.g. Table 1, Table 2, Table 3.... The same for figures e.g. Figure 1, Figure 2, Figure 3....
Each figure or table should be referred to in the text and a description of the data from the figure or table should be included. This doesn't need to be extensive, just a summary of the main points from each table or figure.




Discussion
The discussion is where you can talk about the meaning of your results and anything which might be interesting. You should refer to previous work and note where this supports or disagrees with your own data. You should discuss all of your results before drawing a final conclusion.
At the end you should have a reference section where any books or papers are include, which you've cited in the main text.
When you've finished writing remember to properly proofread your lab report so that you will get the maximum marks possible.

If you need any help or would like to ask some questions you can visit the Excellent Proofreading and Writing Facebook page where I'd be happy to help you. You can also keep up to date with all new additions to this site at my Facebook page.

Return to Academic Writing from Writing a Laboratory Report

Return to Excellent Proofreading and Writing Homepage from Writing a Laboratory Report
Back to top of page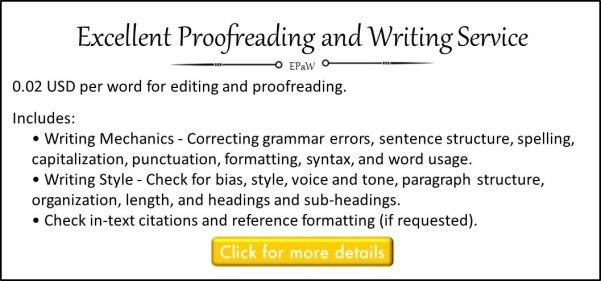 Back to top of page

By Jolyon Dodgson, copyright © 2011-2020. 
Excellent-Proofreading-and-Writing.com - Proofreading and writing help for excellent first impressions. 
Google