The Excellent Proofreading and Writing Service for Your Documents
On this page I'll describe how I can help you by proofreading and editing your document. I've many years of experience working as a scientist, an English as a Second Language teacher, and an academic and scientific proofreader to native and non-native English speakers.
I'll explain:
What types of documents I proofread

The proofreading service I offer

How I proofread

My prices

How to submit your document to me

How to pay
If you've any questions feel free to contact me and I'll be happy to help.
Alternatively if you need any help or would like to ask some questions you can visit the Excellent Proofreading and Writing Facebook page where I'd be happy to help you. You can also keep up to date with all new additions to this site at my Facebook page.
If you're a first time customer see this page for a free trial of my service with some of your work.
All the work I do is fully guaranteed. If you're not happy with anything return the work (within 3 weeks of me returning it to you), stating what's wrong, and I'll correct anything you're unhappy with.
If you'd like to, you can see my terms and conditions as well as Excellent Proofreading and Writing's privacy policy and disclaimer on these pages.



What types of Documents I Proofread
I can proofread just about anything written in English.
I specialize in scientific and academic proofreading along with ESL proofreading. But I can proofread anything you'd like me to.
If you're unsure feel free to contact me first, or submit your document using the procedure below and I'll be able to take a look at it and give you a free evaluation and full quote for you to consider before instructing me to start the proofreading.



The Proofreading Service I Offer
The terms proofreading and copyediting are often used interchangeably by people not familiar with them. In general proofreading is the more basic service which involves checking for spelling and grammar mistakes; while, copyediting involves improving the style, format and language choices in the document.
The service I offer as a 'proofreading service' includes copyediting as well. Many companies offer separate proofreading and copyediting services, often at different prices. I don't. I offer one document improvement service, as this is what many people want when they search for 'proofreading'. If you want something different please indicate this when submitting your document or ask a question using the form below.
When proofreading I'll check the spelling, style, syntax, grammar, content and form. This includes the following:
Writing Mechanics - Correcting grammar errors, sentence structure, spelling, capitalization, punctuation, formatting, syntax, and word usage.

Writing Style - Check for bias, style, voice and tone, paragraph structure, organization, length, and headings and sub-headings.

Check in-text citations and reference formatting (if requested).
My service includes revisions and I will work with you to make your document better. I am happy to correspond with my clients and you can ask me any questions you have once I have returned your corrected document.
I can also provide a certificate to show that your work has been edited by a professional.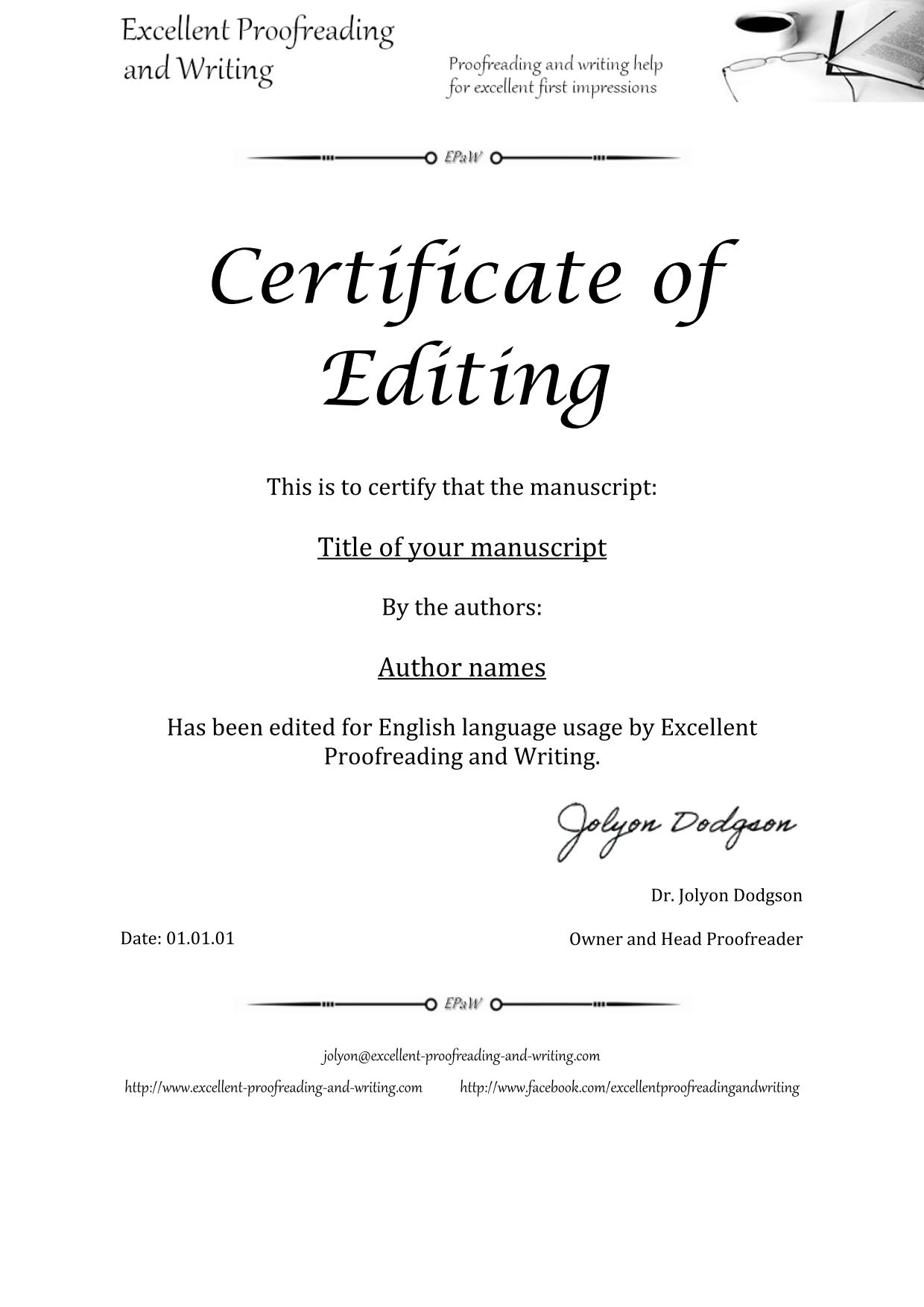 How I Proofread
I proofread using the Track Changes feature in Microsoft Word. This means that all the changes are clear for you to see. I'll return two copies of your document, one finalized version ready for you to use with all the changes incorporated and one with the changes and any comments I add displayed for you to see precisely where I made my changes.
Once I've received your document I'll use a three stage process to proofread the document.
I'll read through your document so that I can see the style of writing that you use and understand the contents of the document.

I'll then work through your document making any and all the changes that are required to improve the English.

I'll re-read the document with all the changes incorporated to make sure that everything is ready for returning to you.



My Prices
Excellent Proofreading and Writing offers a simple pricing structure. I charge $0.02 per word (calculated before starting to proofread) for proofreading and editing. I charge $0.04 per word for rewriting a passage completely.
You can easily find the word count by using the Word Count feature in Microsoft Word or similar program. This is so that it's easy for you to work out the price of the proofreading before you've even submitted the document to me.
I do not round up the total word count to the nearest thousand or even hundred words.You get charged for the number of words that there are in the document and not a single word more.
For example:
A 2000 word document would be: 2000 X $0.02 = $40.00

A 1759 word document would be: 1759 X $0.02 = $35.18
There's a minimum charge of $5 for any document or group of documents. If you send several short documents all at once I'll use the total word count to calculate the cost.
I can return most documents in less than 5 days unless they're very long. I can do a rush service if it is required but this will incur an increase in the price.
For long documents contact me for an individual quote and return time.
You can see the page about the Excellent Proofreading and Writing proofreading price match guarantee.



How to Submit your Documents
To submit your documents to Excellent Proofreading and Writing use the contact from below. Fill in the required fields in the form, include a message if you need to ask me a question or have any special requirements. You can also specify the specific journal you wish to target. 

Then attach your document to the form so I will be able to see it while giving you a personal quote and estimate of the time required.

Once I recieve your submission I will reply to your email address and send information about the price and time needed to do the work.

Then when you confirm that this is all ok I will send you a PayPal invoice that you can pay with either a PayPal account or a credit/debit card. 

Once you have made the payment I will be able to start the editing work.
By submitting your document to me you are indicating you have read and agree to my terms and conditions as well as Excellent Proofreading and Writing's privacy policy and disclaimer.
I accept documents in Microsoft Word format (doc. or docx.). If you don't have Microsoft Word you can download the open source and free Open Office suite of programs. Open Office's Writer (equivalent to MS Word) can save documents in the doc. format.



How to Pay
I accept payment through PayPal's secure online payment system. I'll also include payment instructions in your confirmation email when I receive your document.
Submit your document (specifying if you need the express service or any other special requirements).

I'll send you a PayPal invoice, from Excellent Proofreading and Writing.

Pay the invoice for me to start the proofreading. You can pay using your own PayPal account. If you don't have a PayPal account you can still pay via PayPal with a debit or credit card just follow the on screen instructions.

I'll return your work when it's complete.

Return to Excellent Proofreading and Writing Homepage from The Excellent Proofreading and Writing Service for Your Documents
Back to top of page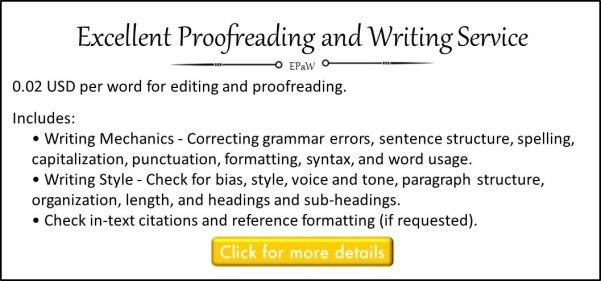 Back to top of page

By Jolyon Dodgson, copyright © 2011-2017. 
Excellent-Proofreading-and-Writing.com - Proofreading and writing help for excellent first impressions. 
Google