Medical Proofreading
Medical proofreading is part of medical writing, which is the communication of the results of medical research and trials. These could be to do with new treatments or the development of new drugs.
Sometimes a professional medical writer will be hired to write and present the results of medical research. The medical writer won't be part of the research team that obtained the results, they're an outside contractor brought in to do a specific job; write the paper or report.
Not all medical writing is done by professional medical writers. Many doctors, nurses and pharmacists write their own papers and reports. I've experience of proofreading many of these documents.
The decision whether or not to employ a professional medical writer is one that only the researchers involved in the specific project can take. But you should consider:
The cost – A professional medical writer does not come cheaply. Do you have enough money left in the budget to pay them? If you want to employ a professional medical writer you should probably include it in your initial budget.
Report or paper format – Much medical research is complicated and often there are many regulatory bodies involved. Your report might need to have specific styles or formats. If you're not sure how to do this a professional medical writer might be of benefit to you.
Your time – Do you have time to write your own papers or reports? If you hire a professional medical writer you won't have to spend all the time needed to write the paper, but you'll still need to prepare all your notes and results to send to the medical writer and then check very carefully that what they've written matches what your results showed.
Hiring a professional medical writer will be the right choice for some people and not for others. If you think that the best option for you is to write your own paper or report I can offer you some advice and help about writing and medical proofreading in this site.




Medical Writing
There's advice about the academic writing process, which includes planning, writing and finalizing, in the academic writing section as well as a section about scientific writing, which includes information about writing scientific papers.
When writing remember to keep your text clear and concise as this will help your readers understand the data and results you're publishing.
When you come to the finalizing stage of the writing process you'll start to proofread your document. This is the stage where you'll improve the quality of the grammar and language you've used in your report or paper. The proofreading section of the website has information about proofreading techniques and checklists that should help with your medical proofreading.




Proofreading
Leave lots of time to proofread your document. To proofread well takes a lot of time and patience. Remember that if you wrote the document you might see what you meant to write rather than the actual words that you used. So leave time to wait after writing before starting to proofread, and use some of the techniques I've listed that'll help you proofread the words you've written rather than what you intended to write.
If you'd like a second pair of eyes, ones that are new to the writing, to check your report or document before you submit it I can help with this. I have experience of proofreading medical papers and PhD theses from doctors, nurses and pharmacists. See the page about my proofreading service for help with your medical proofreading.

Return to Scientific Writing from Medical Proofreading
Return to Excellent Proofreading and Writing Homepage from Medical Proofreading
Back to top of page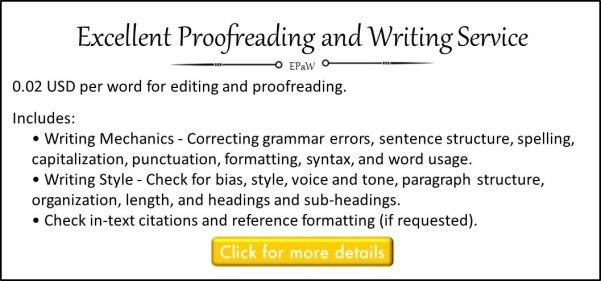 Back to top of page

By Jolyon Dodgson, copyright © 2011-2020. 
Excellent-Proofreading-and-Writing.com - Proofreading and writing help for excellent first impressions. 
Google