Online Proofreader
What is an online proofreader?
How to choose a proofreader?
What can they do for me and my writing?
The three questions, above, are the questions you should be asking yourself as you look for a proofreader.


1) What is an online proofreader?
They're someone who can help you improve the quality of the English language used in your document.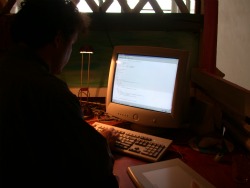 A proofreader used to be someone who checked the type setting before a document was printed. This was before digital publishing, when the letters (type) had to be set on the printing press. The proofreader made sure that the type set on the press was the same as that in the original document.
Now, an online proofreader is someone who does online English editing and proofreading. A modern proofreader is someone who's both a proofreader and an editor, which means that they can offer a complete correction and improvement service for your document.


2) How to choose a proofreader?
You can either choose one the right-way or the wrong-way.
I'll explain the wrong-way first. Do an internet search, pick the first one on the list, send them your document, pay and hope that what you get back will be what you need. I wouldn't recommend using this method. I'd recommend the right-way, which will take a bit longer but should give you much better results.
The right-way, look at several sites, see what sort of information they've on their site. A site with lots of information about proofreading and writing knows what it's doing. How do you know that a site which is just a few sales pages actually knows anything about online English editing or proofreading?
A proofreading company or an independent proofreader should use their website to show you what they know or can do. So look at the sort of information they provide, ask yourself if the information is well written and provides good informative content.
If so look at the sort of service offered by the proofreader:
What do they charge?

What's included in the price?

Turnaround time

Areas of speciality

Do they offer a free trial?
When you've decided on a few sites that you like the look of, send them all the same document to their free trial service and then compare the changes that all the services make. Remember that a good editor and proofreader will try to keep as much of your original writing as possible, as it contains your own voice. Your work needs to sound as if it was written by you.
After this you should be ready to choose a proofreader or online English editor.


3) What can they do for me and my writing?
And finally the last question, which is possibly the most important one.
An online proofreader should be able to improve your writing. They should be able to correct all the small mistakes that distract your readers and improve the style and format of your document. Of course if you just ask them to correct the basic mistakes they'll do that instead.
Most online English editors will use Track Changes in Microsoft Word or an equivalent in other word processing programs. This'll enable you to see where they've made changes and hopefully learn from them. You should spend time making sure that you're happy with all the changes that the online proofreader made. It's your document and you're responsible for the finalized version, not the proofreader; so check all the changes.
A good proofreader will just make your writing better. So that you're able to get a better mark or produce a document that truly fulfills its purpose.

I offer an online proofreading service where I will improve your documents. If you'd like to try my service please send me a sample of your writing through the free trial of my service. If you've any questions I'd be happy to answer them; you can contact me for help and advice if you'd like to.
Alternatively you can visit the Excellent Proofreading and Writing Facebook page where I'm happy to answer your questions and offer advice.

Return to English Proofreading and Copyediting from Online Proofreader

Return to Excellent Proofreading and Writing Homepage from Online Proofreader
Back to top of page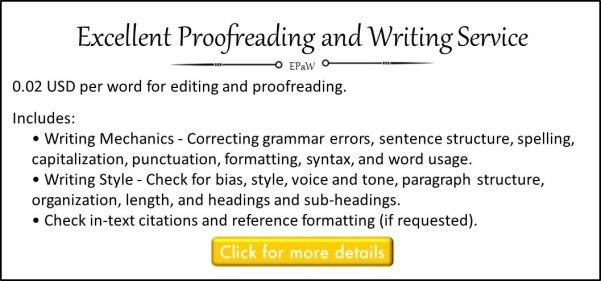 Back to top of page

By Jolyon Dodgson, copyright © 2011-2020. 
Excellent-Proofreading-and-Writing.com - Proofreading and writing help for excellent first impressions. 
Google