Research Paper Proofreading
Proofreading your writing is important no matter what you're writing, but research paper proofreading is even more important.
When you're writing a research paper, you're writing an advanced academic document and readers of advanced academic documents expect a certain level of language usage. The proofreading stage is where you make sure that your writing is written using language of this standard.
In the academic writing process, the planning stage comes first, followed by the writing stage before the finalizing stage where the writing is proofread.
In the writing stage you make sure the research paper contains all the important information you need to include. The writing stage is all about the contents of the paper. The contents are what the readers want to read. Academic writing and research paper writing is all about adding new information and saying something new and interesting.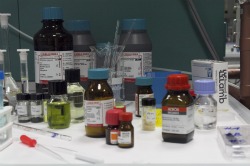 Once you've got all the information, the contents, written, you need to make sure that the language you've used is appropriate and correct. This is the paper proofreading stage. The language you use needs to convey the information without distracting from it. This means that it needs to be correct. The spelling and grammar needs to be correct so that it won't distract the reader.
The proofreading section lists information to help with proofreading such as lists of techniques and tips for proofreading your own document as well as a proofreading checklist.
When writing a research paper the most important proofreading technique for you to use would be to wait.
If you wait for 24 or 48 hours after writing your paper before proofreading it you'll be able to see many more mistakes than if you'd started to proofread it as soon as you'd finished writing.
It'll also help to print the document and proofread it on a paper copy. This'll help you find more mistakes than you would if you'd just proofread it on a computer screen.

If you'd like some help with your proofreading I can do that. See the page about my proofreading service. Also you can come to the Excellent Proofreading and Writing Facebook page to ask me any questions.

Return to Research Paper Writing from Research Paper Proofreading
Return to Excellent Proofreading and Writing Homepage from Research Paper Proofreading
Back to top of page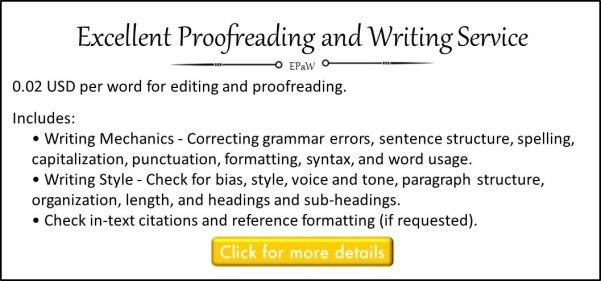 Back to top of page

By Jolyon Dodgson, copyright © 2011-2020. 
Excellent-Proofreading-and-Writing.com - Proofreading and writing help for excellent first impressions. 
Google