Business Proofreading
Business proofreading is vital because when you're doing business writing you're representing your company; so, any mistakes you make, will reflect badly on your company and you.
Mistakes in business writing show a lack of care and a lack of ability. People in business expect other people to be able to write without making mistakes.
This means that you need to proofread your business writing before you send it to anyone else, so you can find all the little mistakes in the spelling and grammar which could cost you a new order or a promotion.
No matter whether you're writing:
they need to be correct. You need to make sure after you've written them and included all the information needed, that you then proofread them to make sure you've not made any mistakes.
As business writing is often done under time pressures not all the proofreading tips and techniques from the proofreading section will apply if you want to proofread your own document. So I'll summarize the three techniques most likely to help correct business writing.


1) Proofread on a Paper Copy
You'll find many more mistakes when you print your document and proofread it as a paper copy rather than on a computer screen. This is a well know proofreading technique and it works. Use this if you've a longer complicated document such as a report or a proposal. You can spread all the pages out to check facts.
Also you can use a ruler to make sure that you only concentrate on one line at a time. Blanking out the rest of the page stops your eyes from jumping ahead and missing a small, but vital, mistake on the line that you're trying to read.


2) Read Aloud
This might not be practical if you're in a shared office, but if you can find somewhere quite, read your business writing out loud to yourself. This'll help you find all the usual mistakes that need to be corrected when proofreading, like spelling and grammar mistakes. But it'll also help you find places where the document could be written better.
If you've to listen to all the words you'll be able to hear where a sentence has been poorly written. There might not be anything wrong with the sentence grammatically but it could be rephrased to sound much better. This is more to do with editing but it'll improve your document if you make these changes.


3) Read for Specific Errors
If your English isn't great and you make a lot of mistakes you might not catch them all at once, you might need to proofread the document several times. If you need to do this it might be good to focus on one type of mistake at a time.
So you read to fix all the mistakes with commas first, then look for typos and spelling mistakes before finally checking for problems with tenses. This way you focus on one type of mistake and are much more likely to find them all in the document. Proofread it as often as needed to find all the different types of mistake you make.


For more information about proofreading to complement the information from this page about business proofreading see the English proofreading section.

If you need an experienced professional proofreader to help you with your business proofreading see the page about my proofreading service. Also come and visit the Excellent Proofreading and Writing Facebook page if you like to ask me any questions.

Return to Writing a Business Letter from Business Proofreading
Return to Excellent Proofreading and Writing Homepage from Business Proofreading
Back to top of page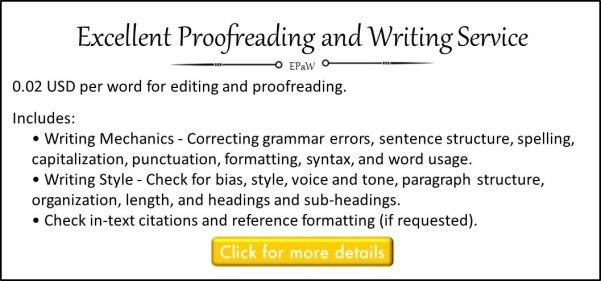 Back to top of page

By Jolyon Dodgson, copyright © 2011-2020. 
Excellent-Proofreading-and-Writing.com - Proofreading and writing help for excellent first impressions. 
Google