Dissertation Editing Service
Many students, when faced with writing their thesis, want help from a dissertation editing service.
But what sort of service should you choose?
What are the questions you should ask yourself when looking at all the different websites out there?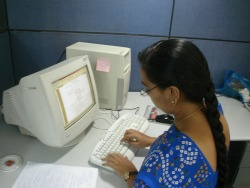 What sort of service should you expect from a dissertation editing service? Only you can decide what you want when writing your thesis. The final decision is yours, but I'll list some of the important things you should consider. Again how important you consider each one will be a personal decision, so the order in which I list them isn't a definite order. Just remember that your dissertation is a very important document and you need to choose wisely, take your time and make a good decision.


1) Personal service
You want and need to know who's dealing with your dissertation. If the company you choose won't tell you the name and qualifications of the person who'll be dealing with your work, be wary of them. You need the contact information to be able to contact the person who's working on your thesis directly.
If the company makes you go through a central hub every time you need to contact them or want clarification about any changes made, you might not even be assigned to a single person. The company might be passing your dissertation around whoever has five minutes to spare now and then.
Make sure that you and your work are important to the company you're thinking about using.
Generally the smaller the company the more personal the service will be. A small company owned by the proofreader or editor will value each and every customer as they get to know them and develop personal relationships with them; which means that they are much better able to deal with any special requests you might have.


2) Qualifications – academic
For a dissertation editing service the most important qualifications for your editor to have are academic. They need to have written their own thesis and so understand the dissertation writing process and what's at stake.
They need to be able to understand the academic process and the writing styles used. They really need to be able to understand everything that goes into writing a dissertation. Someone who doesn't have PhD and who hasn't written their own thesis doesn't have the same understanding as someone who has.
Make sure that whoever's going to be working for you, or runs the dissertation editing service you use, has these qualifications.


3) The company wants to help you
Many sites that offer a dissertation editing service don't have anything extra. All they are is one big advertisement to try to get you to use their service. They don't tell you anything about the person or company who'll be doing your editing and proofreading.
A well designed site that doesn't tell you anything about writing, proofreading or editing can't tell you anything about the abilities of the site's owners. It could've been designed by a website designer. Use the amount of information, on the site, about the topic of the site to judge how much the owner of the site knows.
By giving you all this free information and help, the site, company and proofreader or editor is giving you lots of free help, so that only people who really need help or don't have time to do it themselves need to use their service.
Use this help as much as you can and remember who gave you help for free when you come to chose which site you'll pay to work for you. A site that gives a lot of help away will be happy to help you if you've any special difficulties.


4) You can ask them questions
The site of the company or proofreader should've contact details so that you can ask them questions before you've submitted your document and paid them money.
Even if you don't need to ask anything, think of something and ask it using the contact form or email address on the site. See how fast they respond to you and what sort of answer they give you. If they give a good detailed answer, you should regard it as a good point in their favour.


5) Try the service for free
You need to see what sort of work they'll do. If they offer a free trial service, use it. Send a short document and see what sort of changes they make. If you've got several services that you're thinking of using send the same test document to all of them and compare the changes that they all make.
But remember that lots of changes don't necessarily mean the document is better. A good dissertation editing service will try to leave as many of your words in the finished dissertation as possible; it's your work and so needs to sound as if you'd written it. A proofreader or copyeditor who completely rewrites it isn't doing a good job. They should try to keep as many of your words as possible.


6) Easy to find terms and conditions and privacy policy
Make sure that you can find the sites terms and conditions and privacy policy and then read them. Make sure that you're happy with all of it before submitting your work.

I can edit your dissertation or thesis. See the page about my service. I'm an independent proofreader and copyeditor so you'll be dealing with me and only me. I've a PhD (I've written my own thesis) and have proofread many other dissertations, see the page about me. If you'd like to, you can contact me and ask me any questions you want about my service and/or use my free trial to test my service. You can see my terms and conditions and privacy policy and look at the rest of the site to see if you can find any information that would be useful to you there.

Return to Thesis Writing from Dissertation Editing Service

Return to Excellent Proofreading and Writing Homepage from Dissertation Editing Service
Back to top of page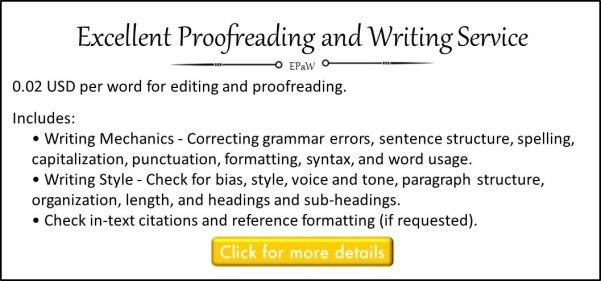 Back to top of page

By Jolyon Dodgson, copyright © 2011-2020. 
Excellent-Proofreading-and-Writing.com - Proofreading and writing help for excellent first impressions. 
Google