Website Presentation
So you've got original content and its written well, how do you present it?
Of the three parts of website writing, the presentation is the one that people seem to focus on the most. As if 'interesting', (not even good) presentation is all that's needed to succeed on the web.
It's not.
Website content is the most important part and then the language used to convey the content. While good presentation is needed for a website to be successful it cannot make up for a lack of the other two parts.
Good presentation enhances well written content.




What is Good Presentation?
Good website presentation is clean and clear presentation.
That means:
No flashing banners

No clashing colours

The use of a few main colours

A nice background (pale colour)

Text written in a font that is easy to read
Flashing banners, many bright colours and multi-coloured text are all true signs of a website made by a beginner with not even basic ideas about design or a site that's ten or more years old. Neither of which is a good look for your site.
Keep the colours you use to a minimum. Use them as part of your website branding. Use the same colours throughout your site.
Black text on a white background works well and is easy to read. But any pale background will look good with dark coloured text.
The fonts that work well on a website are different from those that work well in printed media: use Sans Serif fonts such as Arial, Verdana or Helvetica. These work well for people to quickly scan your page. They're easy for people to read. And if your site isn't easy to read your visitors will leave as there's plenty of other sites to visit on the web.
Remember good presentation is important but it's not the most important thing. That's content.
Also, it's not the second most important thing. That's language.
It's the third most important thing. It's still important just not the most important.

If you'd like to ask me any questions you can visit the Excellent Proofreading and Writing Facebook page or see the page about my proofreading service.

Return to Website Writing from Website Presentation

Return to Excellent Proofreading and Writing Homepage from Website Presentation
Back to top of page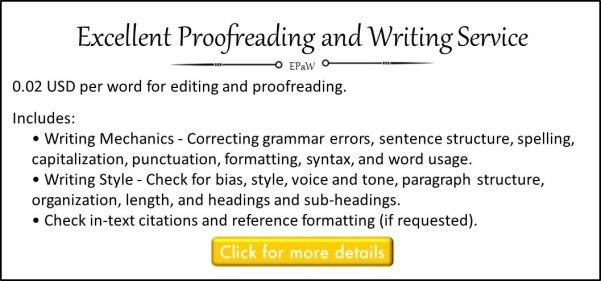 Back to top of page

By Jolyon Dodgson, copyright © 2011-2020. 
Excellent-Proofreading-and-Writing.com - Proofreading and writing help for excellent first impressions. 
Google