Academic Writing for Graduate Students
Academic writing for graduate students is academic writing that is more advanced than the academic writing that an undergraduate student would do.
A graduate student, one who's studying for an MSc or a PhD, will be expected to produce academic work of a much higher level than a student who's only studying for an undergraduate degree.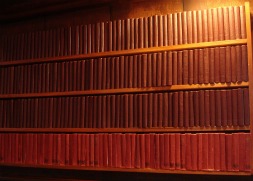 The type of graduate degree course you're studying on will affect the type of academic writing for graduate students you'll have to do. A taught MSc is different from an MSc by research which is also different from a PhD.
Depending on the type of degree course you might have to write:
Essays
Critical reviews
Literature reviews
Presentations
Progression reports
Abstracts
Papers to be published in conference proceedings
Posters
Papers to be published in academic journals
Thesis
Writing an essay will be similar to what you've done previously (only more detailed), but detailed literature reviews or papers to be published in academic journals will be new types of writing.




Research
Possibly the biggest difference between academic writing for undergraduate students and academic writing for graduate students comes before you start to write.
You'll be expected to do much more and more detailed research before you start to write anything. Also the quality of the sources you use will need to be much greater.
This means you need to read academic papers which have been published in academic journals. The internet and textbooks are no longer detailed enough, reliable enough or up-to-date enough.
If the topic you're writing about is new to you and you don't have much background knowledge you can, and should, use textbooks as your first reference source. These will give you the background knowledge to understand the academic papers you'll have to read.
Academic papers should be the main source of information you use when writing. You'll need to fully reference any papers you use, when you quote, paraphrase or summarize them in your written work.
I'd recommend that you use a piece of reference management software to keep all your references in order. It's easy to forget to include a reference if you're trying to do it manually and this could lead to you being accused of plagiarism.




Something New
All academic writing is to do with adding 'something new'. You need to add new information to your discipline when you're writing academically. This is even more important when doing academic wiring for graduate students.
As well as reading and referencing all source material you need to add something to it. That means you need to analyse it, think about it and express your own thoughts and opinions about it, in your writing; all backed up by other source material if possible.
This is what being a scholar is all about; adding new information.




No Mistakes
As a graduate student you're already highly educated and people expect your writing to show that. This means that as well as the contents being of a suitable standard the language used to express them also has to be perfect.
This means you need to check and proofread your writing before submitting it. This is even more important if you're an ESL writer who's also doing graduate study.
Follow the tips and techniques from the proofreading section to help you get your writing perfect before submitting it.
If you'd like some help with the proofreading of your writing see the page about my proofreading service and the page about me for my own academic qualifications. If you'd like me to read and comment on your writing or have any questions that I can help you with use the contact me page. Alternatively you can visit the Excellent Proofreading and Writing Facebook page where I'm happy to answer your questions or offer advice.

Return to Academic Writing from Academic Writing for Graduate Students

Return to Excellent Proofreading and Writing Homepage from Academic Writing for Graduate Students
Back to top of page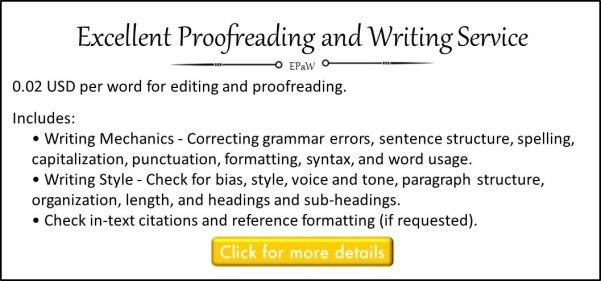 Back to top of page

By Jolyon Dodgson, copyright © 2011-2020. 
Excellent-Proofreading-and-Writing.com - Proofreading and writing help for excellent first impressions. 
Google