Research Paper Format
Research paper formats are governed by sets of conventions that have developed over time in scientific and academic writing. You shouldn't break any of these conventions without a good reason.
Despite this there's some flexibility in the conventions and often each institution or publishing house will have their own set of exceptions you'll need to follow as well; if you're a student writing a research paper as an assignment check with your department or faculty to get a copy of the regulations.
If you're writing a research paper for publication in an academic journal check their website for their instructions to authors, which should explain what they want.




Research Paper Outline
Most research papers follow the same outline of:
Title

Abstract

Introduction

Materials and methods

Results

Discussion

Conclusions

Reference section
See the page about the research paper outline for more information on this topic.
You should always follow this structure for your research paper unless you've been specifically instructed otherwise. This is the structure that all academic and scientific writers use. It's the structure that the readers of your research paper will be familiar with. You want them to focus on the wonderful results you're presenting them, so don't do anything strange (like using a different structure) that'll distract them.




Research Paper Language
Just like the format specifies a certain outline, it also needs certain types of language to be used.
You're writing your research paper for an academic audience so the research paper format should reflect that.
That means using the passive voice and a scientific or academic style. If you do this you'll write a research paper where the language doesn't distract from the information you're trying to convey to your audience.
In academic and research paper writing the results are more important than the person doing the work and you should try to remain impartial when writing your research paper. You can do both of these by using the passive voice and suitable academic or scientific language.




Details
The details relating to a research paper format are also important. These are the small things that you might not think about if you're too busy researching and referencing all your sources and then writing the paper.
The details include things such as:
The paper – use clean, white, good quality, A4 paper and print on only one side.
Margins – use wide margins so there's space to make comments in them, about 2.5cm.
Page numbers – on every page, 1.75cm from the edge of the paper (at top or bottom of page).
Double space text – text should be double spaced, again so that there's space to write comments.
Your name – this should be on the first page and at least your surname should be on every page.
Staple the pages together – no fancy binder is needed, just a staple in the top left hand corner (your teacher or the person reading it will love you for this, as it reduces weight and is easy to keep in a pile).




Proofreading a Research Paper
Once the rest of the research paper format is correct the last thing to do is proofread your research paper. Also see the proofreading section for more help and tips.
When proofreading your research paper you're looking for any small mistakes that are left in the language, format or details. Check for:
Spelling mistakes or problems with grammar.

Make sure the format is constant throughout the paper.

That there is consistent formatting for all the references.

All the details (page numbers, margins, etc) are the same on all pages.
Once you've done this your research paper should be ready to submit.

If you'd like any help with proofreading your research paper or checking the research paper format I can do that. See the page about my proofreading service for information about submitting your documents to me.
Return to Research Paper Writing from Research Paper Format
Return to Excellent Proofreading and Writing Homepage from Research Paper Format
Back to top of page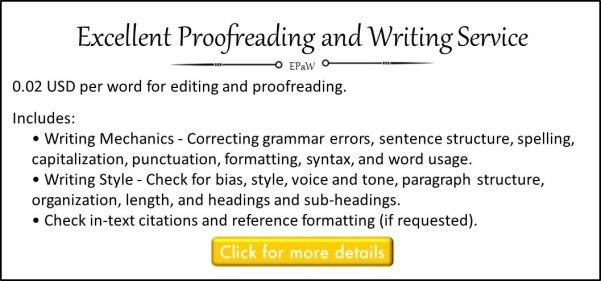 Back to top of page

By Jolyon Dodgson, copyright © 2011-2020. 
Excellent-Proofreading-and-Writing.com - Proofreading and writing help for excellent first impressions. 
Google